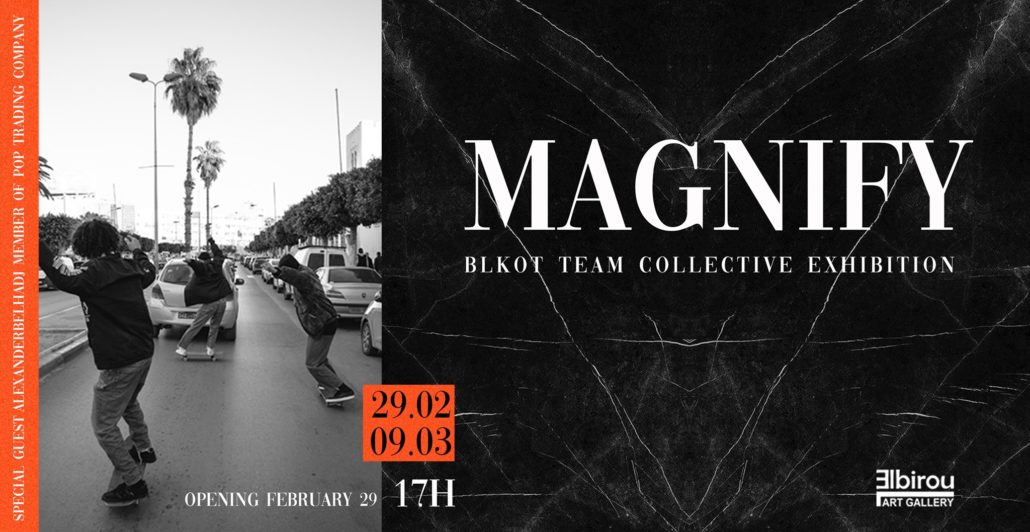 MAGNIFY by BLKOT Team
Collective exhibition
from February 29th to March 9th 2020
OPENING on Saturday February 29h
Elbirou
Art Gallery will be hosting MAGNIFY, the first skateboarding exhibition of the BLKOT Team, from 29-02 to 09-03 2020.
This event is made to introduce the Skateboarding Culture in Sousse, Tunisia … and to present the first drop of BLKOT MAGAZINE !
BLKOT TEAM:
Anwar Jedidi,
Yassine Jedidi,
Raslen Marrag,
Nadim Ayari,
Dali Hamouda,
& Malek Ben Amor
—————————————
MAGNIFY by BLKOT Team
Exposition collective
du 29 février au 09 mars 2020
Vernissage le Samedi 29 février
Elbirou Art Gallery présente MAGNIFY, la première exposition de Skateboard de BLKOT Team du 29-02 au 09-03 2020.
Cet événement sera l'occasion de faire découvrir la culture du Skateboard à Sousse, Tunisie … et de lancer le 1er numéro de BLKOT MAGAZINE !
L'EQUIPE BLKOT :
Anwar Jedidi,
Yassine Jedidi,
Raslen Marrag,
Nadim Ayari,
Dali Hamouda,
& Malek Ben Amor